A romantic photo contest for engagement and brand visibility on Facebook
The Orofluido case study
Introduction
You may have a fantastic product, but your potential customers aren't aware of this yet. So, you have a large task on your hands: building up your brand's reputation and increasing the desirability of your products from nothing.
You slowly make a name for yourself, gather some fans on Facebook, but this is only the beginning; maintaining an engaged community of customers is a never ending task. However, a manufacturer of a beauty product called Orofluido - managed to fulfill these tasks through the effective use of a photo contest in Brazil.
By using a romantic, simple and well-targeted campaign on Facebook, they gained aproximately 3,303 subscribers. This was accomplished through the successful use of referrals, as well as online and printed advertisements, which resulted in deeper fan engagement and 2,863 new likes.
| | |
| --- | --- |
| Marcelo Sales Marketing manager | The goal was engaging current fans, reaching more potential customers and strengthening the brand. We were looking for a tool that made it easy for our visitors to participate in the online contest. |
If you want to read more about the story behind the numbers for this short (5-day long) photo contest, then please continue reading.
Company
Orofluido sells hair oil that is originally made in Spain and then imported to Brazil. The company has a great reputation in Brazil, because its products are exclusively sold in salons and have high quality ingredients that make the hair silky and flexible.
Challenges & goals
In a highly competitive market, which is overflowing with wonder-worker beauty products, it is essential to get your product in the forefront of your potential customers minds and highlight the benefits of your particular product.
After building up a large following, Orofluido wanted to stabilize their brand's reputation and engage fans, through the use of a photo contest.
Orofluido Brazil's Facebook page - the site now has more than 10,000 likes.
Campaign mechanics
During the 5-day long photo contest on Orofluido's Facebook page they asked the fans to upload snapshots of lovers.
They gave away 3 Orofluido Gift Boxes - one box valued at $260 – for the three winners with the most votes.
This promotion took place close to Valentine's day, so it was the perfect theme for a photo contest, because every couple wanted to show-off their lovey-dovey moments.
(Worldwide, Valentine's Day is held on 14th February. However, in Brazil it is held on 12th June and is called "Dia dos Namorados". The contest ran from June 7th until 11th, in keeping with this big celebration.)
What were the most effective ingredients for this contest? Let's take a closer look at the details.
#1. Photo contest for engagement
Running a photo contest provided deeper engagement allowing the opportunity of 5 seconds fame for every entrant and was a great opportunity for getting attention. They combined it with a lovely theme by uploading lovers' photos.
#2. Exclusive grand prize
Orofluido is a very unique and sophisticated product in Brazil, that is only sold in salons, so it's desirable and a perfect grand prize for Brazilian women, who like to use beauty products.
In addition, the company gave away 3 grand prizes to the top 3 contestants with the most votes. The more prizes that are given away, the better the chances for the subscribers to win, encouraging them to participate.

They announced the 3 winners on their Facebook page with a graphic that fitted well with the contest's layout.
#3. Driving traffic to the app
The organizers ensured that there was a significant volume of traffic, which is essential for having a successful promotion campaign.
1) Paid advertising: they ran well-targeted Facebook ads and printed ads in magazines.
2) Involving similar brands: the organizers shared the promotion on other pages (such as Uniq One and Revlon Professional). These pages have the same customers as Orofluido and are also managed by the organizers.
3) Posting product trial videos: a well-known Brazilian Hair Stylist made the contest more credible.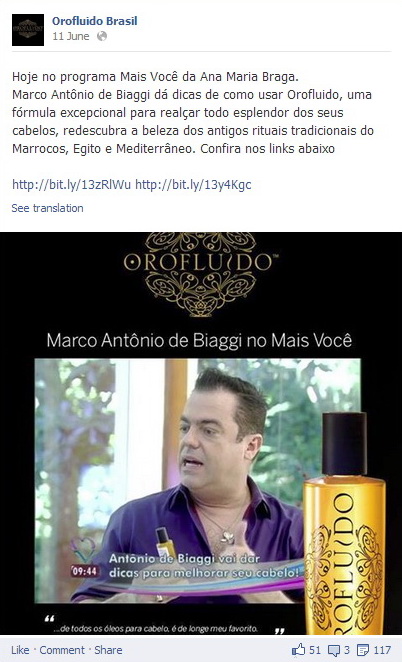 In a Brazilian morning show, a famous hair stylist gave useful tips on how to use the grand prize. A video about him was posted on Orofluido Brazil's Facebook page during the contest.
#4. Creative use of call-to-action imagery
They used a 'like gate' that hides the promotion's content from those visitors who haven't liked the Facebook page yet. Visitors need to like the page first and then they can enter. It helps to get more page likes.
Their like gate was eye-catching and beautiful, with an attractive design focusing on the grand prize, which helped motivate the visitors to participate.

This acts like an enticing 'promise', because every women wants to be beautiful and would love to look like this stunning model.
#5. Stabilizing the brand
For building their brand they whitelabeled the contest's footer, which helped to improve Orofluido's own recognizability.

The company posted the promotion's link on its Timeline with a picture of the grand prize. - A good practice for getting visitors attention.
#6. Increase the viral effect
When a fan uploaded an image, a post was shared on their friend's News Feed with a link to the entry. The participant's friends could see this post and they had the option to vote on the image or enter the contest. (This process was repeated again when someone voted on an uploaded picture.)
Also, the company allowed daily voting:
- the participants asked their friends to vote for them frequently and friends visited the Facebook page/the promotion time and again.
- when these friends voted, a post was shared on their News Feed, meaning that their friends saw it again.
These methods strengthened the brand's visibility on Facebook, particularly among the targeted audience and their friends. At the same time, the visitors, the voters and the uploaders became more and more engaged.
# 7. Authenticity
The organizer asked the winner to send a picture of them receiving the prize. The snapshot of this happy moment made the contest authentic and trustworthy.

One of the winners holding her prize. Orofluido posted this picture on its Timeline.
Outstanding results
Their strategy and promotion mechanism worked very well, as you can see below:
They got approximately 2,863 new Page Likes during the contest - with Facebook, magazine ads and referrals.
Exactly 2,866 people came through referrals. These are the particpants who joined through other contestants' shared links. All in all, we can see from the numbers that the visitors who came though referrals became fans.
During the 5 day long contest, 26 people uploaded pictures and 3,287 people voted for them. These are good numbers for such a short period of time.
In total, the company got 3,303 new subscribers with email addresses that can now be used in their newsletter system.
On the last day of their contest the company boosted traffic through the effective use of Facebook ads, which made the promotion even more viral and they received 2,100 new subscribers.
As the contest was running for a short time, the uploaders had to mobilize their friends fast so they acted immediately.
The cost of one subscriber was $0,29 - including the cost of the promotion ($199) and the prices of the grand prizes (3x $260.00).
Conclusion
Orofluido's case is a very good example for engaging and mobilizing fans to share, like and visit a Facebook page. Their outstanding results are based on a highly readied marketing strategy. This strategy included the mix of online and printed advertisements, call to action designs and posts on the product's Facebook page and an excellent choice of contest type, grand prize and theme.
They collected approximately 3,300 subscribers with email addresses and gained 2,863 new likes to their Facebook page.
How can they benefit from this contest later on?
They can send out the contest's link in a newsletter. Their newsletter subscribers gained interest in the product before, so they will be interested to know about a new opportunity to win. Also they receive this information first - making them feel closer to the brand.
How to benefit from this contest later?
The company can use the uploaded photos as crowdsourced material for their Facebook posts - for example, they may upload the pictures and run caption contests asking fans to give a title.
The company used Antavo's platform to build the promotion application instead of working with an IT development team.
| | |
| --- | --- |
| Marcelo Sales Marketing manager | We tried out several contest builder apps, like Pagemodo, Woobox and Sorteie.me, but they were difficult to customize and hard to use. Then we met Antavo. It's friendly, easy-to-use interface was the best! The trial version of Antavo is also fantastic! It helped us to find the best plan that met with our goals. |
Antavo is used by 10.000+ marketers all over the world. You can sign up for a free trial here. Plans start from $25.
This case study was based on an interview with Marcelo Sales, the marketing manager at Orofluido Brazil.